Are your employees eating, breathing, and living out the values that you've developed as an organization? As leaders, executives, and business owners, if we want our team to be successful, we have to set a tone of positive culture. Without this positive culture, we get high turnover, low performance, and can have trouble expanding. At TEAMTRI, we embody positive culture through our Lifestyle of Leadership, our set of six values that influence our daily decisions. Our Lifestyle of Leadership helps us make decisions during tough times and continue to expand our circle of influence. We've broken down our Lifestyle of Leadership and our values for you, in hopes that it will inspire you to create your own! 

You may be asking yourself, "what is a Lifestyle of Leadership?" A Lifestyle of Leadership is your set of values that help guide the way you conduct yourself throughout all avenues of your life. It affects the way you lead, how you respond to people, and what your purpose is. We as leaders can have our own Lifestyle of Leadership composed of our personal values, but organizations can also have their own set of values that make up their Lifestyle of Leadership.
Read more: What is a Lifestyle of Leadership
TEAMTRI's Lifestyle of Leadership
In the Fall of 2015, the employees of TEAMTRI started to gather virtually to discuss and re-discover our core values as a team. Nearly 30 team members generated 32 pages of concepts, notes, ideas and examples of what is important to each of us individually and collectively. These 81,000 characters and 18,000 words were then examined closely to look for themes as well as to study both research and reflections of great leaders and great leadership organizations on our value themes. Our goal was to find 3-7 words that described TEAMTRI's Values. In the end, six words clearly emerged to define our TEAMTRI Values.
TEAMTRI's Lifestyle of Leadership & Values Formula: [L3xC3=LOL]
All the words our Team Member's contributed really reflected a simple idea that we strive to lead a "LIFESTYLE OF LEADERSHIP" or LOL. Our formula for reaching LOL is L3 x C3 and is composed of our values:
Love
Listen
Learn
Commit
Character
Create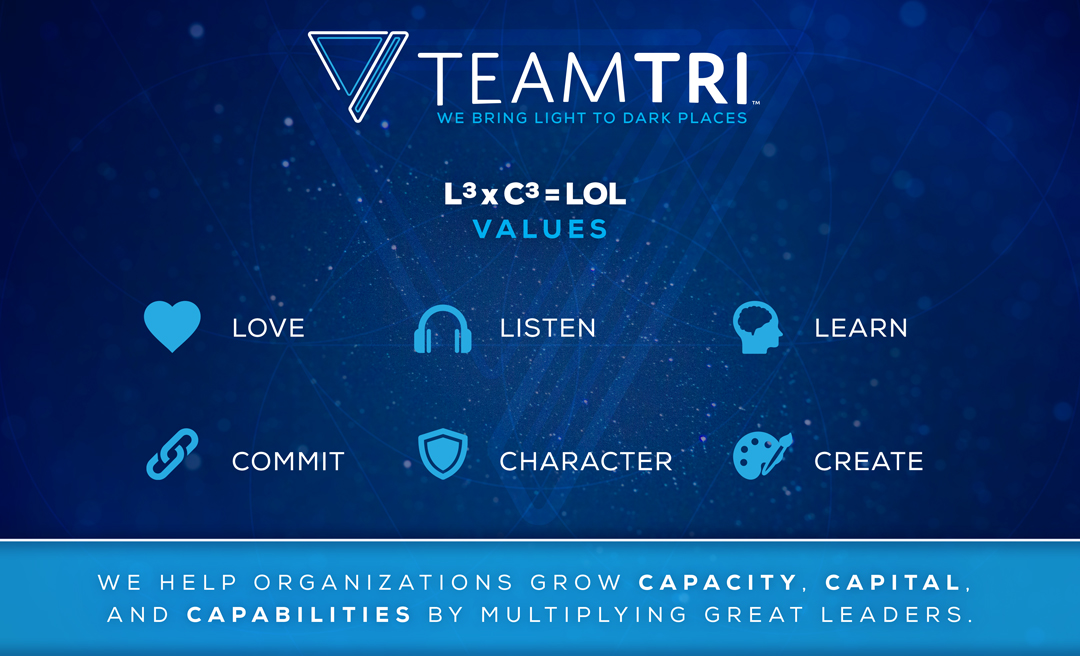 Below, we've broken this down even more and included a reflection question that we ask ourselves on the daily as it pertains to that value.
We LOVE
Our Team has courageous empathy
We love what we do
Our impact is a lasting legacy of love
Love is an action, it is felt, seen, and heard
Ask yourself: Do my actions and interactions today reflect my LOVE and unleash leadership potential and capacity?
We LISTEN
We listen with all our senses and heart
Our team engages in active listening
Listen to serve, inspire, and encourage
Ask yourself: Am I doing my best to LISTEN and not merely hear? 
We LEARN
Learning is a constant
Embrace unique learning styles
Intentional apprenticeship
Ask yourself: What did I LEARN today to build better leaders?
We have CHARACTER
The Platinum Rule: treat others as they want to be treated
BE and BECOME
We protect and respect
Ask yourself: Did I live today as I want to be remembered?
We COMMIT
Relentlessly give our best work, our best selves, and our best service
Prepare, execute, and lead
Our commitment extends to all circles of influence
Ask yourself: Am I fulfilling my promise to myself, my team, and our clients?
We CREATE
Limitless curiosity
Make intentional connections
Develop imaginative solutions
Ask yourself: Am I creating sustainable leadership?
Your Turn!
As you embark on your own leadership journey, we hope this article is helpful and serves as inspiration. Remember, every team needs an ideology and guiding set of values. As a result, your team will rally around a shared vision and flourish. We challenge you to sit down with your team and develop your own Lifestyle of Leadership and identify the values that are most important to you. If you have questions along the way, feel free to connect with TEAMTRI and we'll join you on your journey.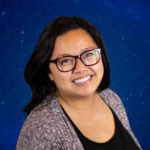 Danielle Tolentino Tuason, MPA
Danielle is our Senior Vice President of Client Services at TEAMTRI.  She is known for her positive energy and contagious smile!  Her professional journey began as a student leader directly impacted by TEAMTRI, and then she joined the non-profit sector, specializing in leadership, team development, fund development, strategy, and innovation.  Today, she guides and coaches our clients, teammates, and students in their own leadership journeys to help them achieve their dreams!  Danielle is a creative at her core and strives to live by the philosophies of servant leadership in all of life's circles of influence, whether at home with her family, partnering with teammates and clients around the world, and within her local community in Southern California.