On January 26, 2020, tragedy struck the world as beloved basketball star Kobe Bryant and his daughter were killed in a helicopter crash. The helicopter was carrying seven other passengers when it crashed into a hillside in Southern California. This shock was felt across the globe, as so many of us looked up to him for his leadership, dedication, and commitment to the game. His influence reached well beyond just basketball, touching the entire world of sports, athleticism, art, culture, and business.

Who Was Kobe Bryant?
Kobe Bryant was more than just a shooting guard for the Los Angeles Lakers. He was a leader, a businessman, and a hero to so many children and adults across the globe. Born in Philadelphia, Bryant grew up on the basketball court. This lead him to win multiple championships and awards during his senior year of high school, eventually leading to an offer from the Los Angeles Lakers. Straight out of high school, Bryant began his pro-basketball career and continued to learn, practice, and dominate on the court. At 34 years old, Bryant became the youngest player to reach 30,000 career points when he connected on a jump shot during the first half of a game against the New Orleans Hornets. In 2016 his pro-basketball career came to a close as he suffered from an injury and retired.
4 Lessons from Kobe Bryant
Kobe Bryant's legacy will be remembered not only for his time on the court but the countless lessons he shared with us off the court. His words touched millions of people across the globe. Over the years he shared his thoughts and wisdom on leadership and what it means to be successful. Here's what the late Kobe Bryant taught us.
Kobe Bryant on Trying Something New:
Bryant taught us that we can't be afraid to try something new, even if it means failing the first time.
"If I wanted to implement something new into my game, I'd see it and try incorporating it immediately. I wasn't scared of missing, looking bad, or being embarrassed. That's because I always kept the end result, the long game, in my mind. I always focused on the fact that I had to try something to get it, and once I got it, I'd have another tool in my arsenal. If the price was a lot of work and a few missed shots, I was OK with that."
Opportunity comes in a variety of ways if you are open and ready to receive it.
Related: 9 Strategies to Help Us Excel in High-Pressure Playoff Moments
On What It Means to Be a Team Player:
You don't play 20 seasons in the NBA without knowing how to support your team. As someone who loved to win, Kobe was constantly determined to win the title, year in and year out. This motivation and focus is a great leadership lesson for us all. Kobe Bryant teaches us to be the person on the team who is both willing to take the last shot and cheer on the team from the sideline, rather than the person who shies away from important moments.
"I don't just try to score. The challenge for me is elevating my teammates so we experience success."
"I'll do whatever it takes to win games, whether it's sitting on a bench waving a towel, handing a cup of water to a teammate, or hitting a game-winning shot."
Even in high-pressure moments, Kobe teaches us to do it and do it well. If you're cheering from the sidelines, be the best cheerleader you can be! If your team is relying on you to get something done, make it a slam dunk!
On Leadership
Kobe Bryant lead the Lakers through twenty seasons. There were great moments, including five championship-winning games. However, not all of them were great, nor did they end in success. Through leading his team though, Kobe learned a valuable lesson.
"Leadership is lonely… I'm not going to be afraid of confrontation to get us to where we need to go. There's a big misconception where people thinking winning or success comes from everybody putting their arms around each other and singing kumbaya and patting them on the back when they mess up, and that's just not reality. If you are going to be a leader, you are not going to please everybody. You have to hold people accountable. Even if you have that moment of being uncomfortable."
On Leaving a Legacy
Bryant also taught us about leaving a lasting impression and legacy. His take on it is rather unique.
"It's the one thing you can control. You are responsible for how people remember you or don't. So don't take it lightly. If you do it right, your game will live on in others…leave the game better than you found it. And when it comes time to leave, leave a legend."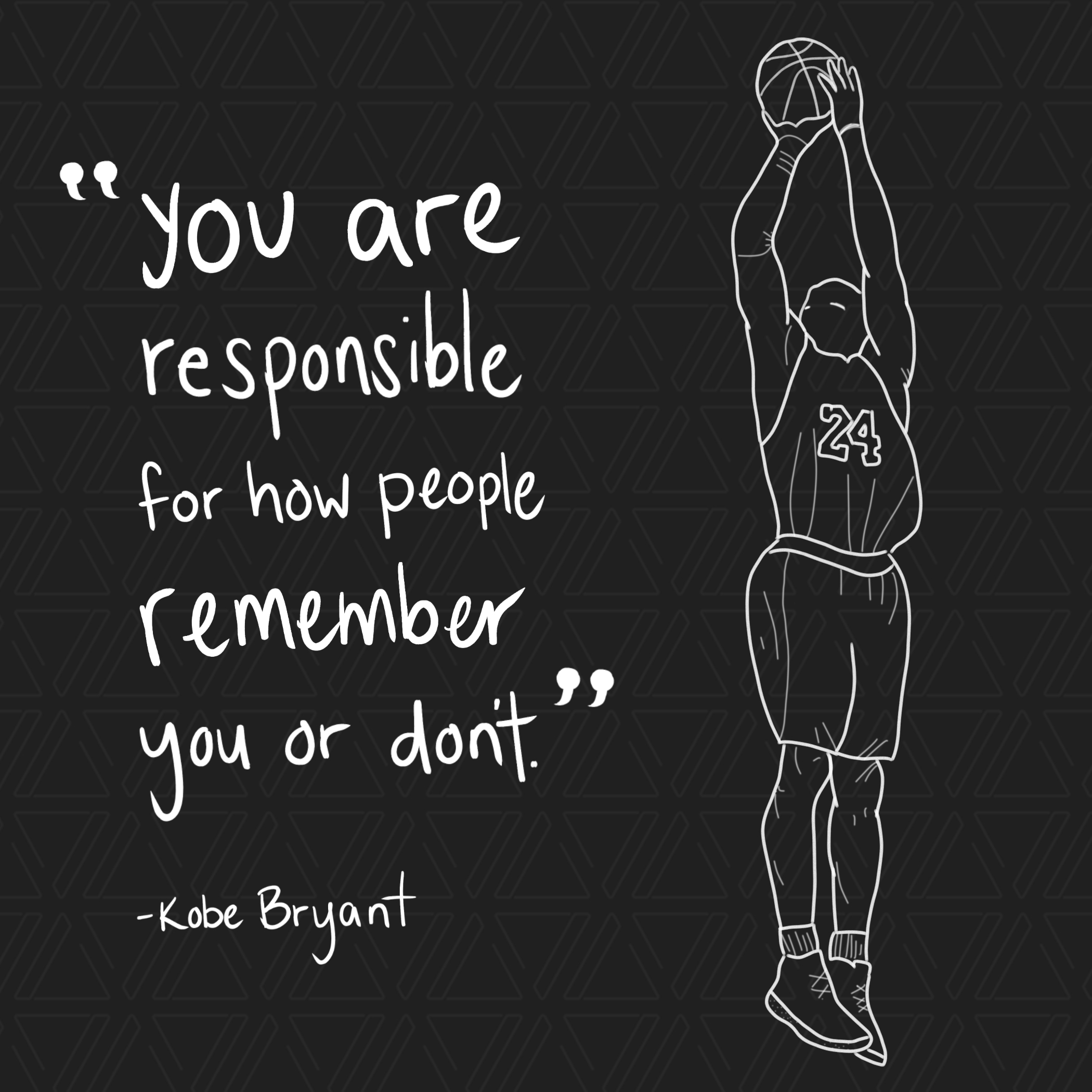 Leave the game better than you found it. That eight-word quote is worth a thousand words alone. Throughout everything you do, Bryant teaches us to just leave the world a little better than how you found it. That's how you'll be remembered and that's how you will leave a legacy worth knowing about.
Following a great career and a terrible tragedy, Kobe Bryant will be remembered for his leadership and dedication to the game.
What's your favorite Kobe Bryant quote? Share it with us on social using #TEAMTRI.
Related: 5 Keys to Creating a Confidence-Building & Game-Winning Routine